Ad blocker interference detected!
Wikia is a free-to-use site that makes money from advertising. We have a modified experience for viewers using ad blockers

Wikia is not accessible if you've made further modifications. Remove the custom ad blocker rule(s) and the page will load as expected.
Doubutsu no Kuni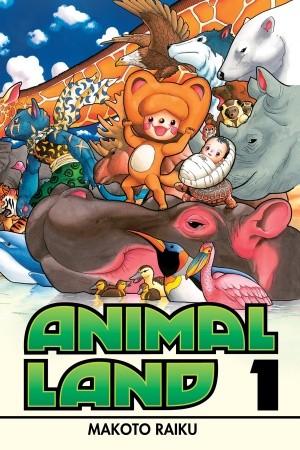 Information
Title:
Doubutsu no Kuni (どうぶつの国)
Author:
[Raiku Makoto]
Original Run:
September 9, 2009 - February 8, 2014
Published by:
[Bessatsu Shounen Magazine] (Kodansha)
Volumes:
14 (53 Chapters)
Genre:
Action / Adventure / Comedy / Drama / fantasy / Sci-fi / Shounen
 Doubutsu no Kuni (which is also known as Animal Land in English releases) is a Japanese manga series written and illustrated by Raiku Makoto.
Orphaned after her parents were killed by Lynxes, Monoko is the only tanuki in her village without a family, until she finds a human baby in a river. In Animal Land, a world inhabited solely by animals, this human child is a mystery. This baby is Monoko's only chance at having a family and she is determined to raise the human child as her own. It later becomes Tarouza's mission to create a world where all animals can live with one another in peace
#
Release date
ISBN
JPN Volume Cover
ENG Volume Cover
1
March 17, 2010 (JPN), August 16, 2011 (ENG)
978-4063842746 (JPN), 978-1935429135 (ENG)
Volume 1
Volume 1
List of Chapters:
Cover Characters:
2
April 4, 2010 (JPN), October 18, 2011 (ENG)
978-4063842869 (JPN), 978-1935429142 (ENG)
Volume 2
Volume 2
List of Chapters:
Cover Characters:
3
August 17, 2010 (JPN), December 20, 2011 (ENG)
978-4063843514 (JPN), 978-1935429159 (ENG)
Volume 3
Volume 3
List of Chapters:
Cover Characters:
4
December 9, 2010 (JPN), March 20, 2012 (ENG)
978-4063843514 (JPN), 978-1612620367 (ENG)
Volume 4
Volume 4
List of Chapters:
Cover Characters:
5
March 9, 2011 (JPN), July 3, 2012 (ENG)
978-4063844689 (JPN), 978-1612620374 (ENG)
Volume 5
Volume 5
List of Chapters:
Cover Characters:
6
June 9, 2011 (JPN), November 13, 1012 (ENG)
978-4063844979 (JPN), 978-1612620381 (ENG)
Volume 6
Volume 6
List of Chapters:
Cover Characters:
7
October 7, 2011 (JPN), April 16, 2013 (ENG)
978-4063845594 (JPN), 978-1612622491 (ENG)
Volume 7
Volume 7
List of Chapters:
Cover Characters:
8
February 9, 2012 (JPN), October 15 2013 (ENG)
978-4063846225 (JPN), 978-1612622507 (ENG)
Volume 8
Volume 8
List of Chapters:
Cover Characters:
9
July 9, 2012 (JPN), April 22, 2014 (ENG)
978-4063846997 (JPN), 978-1612625461 (ENG)
Volume 9
Volume 9
List of Chapters:
Cover Characters:
10
December 7, 2012 (JPN), October 21, 2014 (ENG)
978-4063847758 (JPN), 978-1612625577 (ENG)
Volume 10
Volume 10
List of Chapters:
Cover Characters:
11
March 8, 2013 (JPN), Janurary 26, 2016 (ENG)
978-4063848243 (JPN), 978-1612629780 (ENG)
Volume 11
Volume 11
List of Chapters:
Cover Characters:
300px
12
July 9, 2013 (JPN), TBA (ENG)
978-4063848892 (JPN), TBA (ENG)
Volume 12
Volume 12
List of Chapters:
Cover Characters:
300px
13
November 8, 2013 (JPN), TBA (ENG)
978-4063949568 (JPN), TBA (ENG)
Volume 13
Volume 13
List of Chapters:
Cover Characters:
300px
14
March 7, 2014 (JPN), TBA (ENG)
978-4063950182 (JPN), TBA (ENG)
Volume 14
Volume 14
List of Chapters:
Cover Characters:
300px